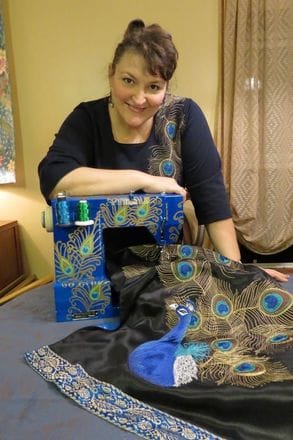 Linda Bratten is a native Nebraskan
, but has transplanted nicely into the
Armstrong, MO
area. Linda and her husband, Brett, have raised three fine young men. And she is now experiencing the fun of being a grandmother.
Linda is a
graduate of the University of Nebraska, Kearney with a Bachelors of Science in Education
. Her major is in
Vocational Home Economics
. She taught Family and Consumer Sciences in the Public Schools in Weeping Water and Auburn, Nebraska, and in Stewartsville, Missouri. In 1991 she was selected as
Nebraska's Vocational Home Economics Teacher of the Year with 1-3 years experience.
She has also worked as a
University of Nebraska Extension Assistant,
where she wrote a weekly news column, "Managing the 90's".
She began sewing at a young age, but started quilting after the birth of her first son in the late 80's. Linda has taught quilt guild programs in Nebraska, Kansas, and Missouri. She is an
online instructor for Craftsy
, and has recently taught at the
Machine Quilters Showcase
sponsored by The
International Machine Quilters Association
, and at
MQX Midwest
. Since 2008 she has been a regular
quilting and sewing instructor in and around the Columbia, MO, area.Recent achievements include:
"The Promise of Spring"-2017 SAQA Trunk Show

"Firsts Emotions of Love"-Finalist, Quilting Arts Magazine, "Language of Flowers" Readers Challenge

"Margaritas After Midnight"-Third Place Ribbon in the Machine Quilter's Showcase Quilt Show Fabric Challenge Competition, May 2016, Cedar Rapids, Iowa
"Peacock Shawl" -One of the Five Semi-Finalist in the Bernina and Threads Magazine Machine Embroidery Challenge

Quilted a Memory Quilt for Linda Turner, It appeared in her article in the January/February 2014 Issue of Designs in Machine Embroidery

---